dbFront: Your Database Front-End Solution
| | |
| --- | --- |
| Embrace simplicity and power with dbFront, your ideal tool for building dynamic client applications. Ready to experience seamless database application management? | |
A RAD Tool Designed for DBAs and Analysts
dbFront is a RAD (Rapid Application Development) tool specifically designed for use by DBAs and Analysts. dbFront allows you to quickly build client applications from your existing databases that are immediately useful. For more details see: How dbFront Works
Benefits of using dbFront
Simple

No Code / Low Code for most common functionality.
Simple to Administer and Straight-forward for users.
Dynamically updates itself as your database structure changes.
Built-in template-based Quick Reports which is great for Ad-hoc reports and exports.

Secure

Satisfies security-conscious Network Admins with its multiple security layers.
Installs locally or hosted and integrates with your existing network security (Active Directory, Single-Signon).
Ensures compliance by leaving you in full control of your critical data. No outsourcing required.
Averts additional backup requirements since the same data is shared by all systems.

Powerful

Full Access to stored procedures, stored functions, triggers, views, etc.
Eliminates synchronization issues by connecting directly to your existing data.
Support for PDF Forms, Excel Templates, Crystal Reports, etc...
Simple, Advanced, Full-Text and Custom search functionality.
To see how this is possible please look at our video tutorials or examine the product details.
Compatibility with Major Databases
dbFront is designed to run on a Microsoft web server (IIS) and is compatible with Oracle 10+, Microsoft SQL Server 2000+ and MySQL 4+. For more compatibility and setup information see our setup details.
Flexible Licensing & Support
All dbFront licenses are perpetual (non-expiring) and come with a year of Support & Maintenance. Support & Maintenance ensures you live and priority technical support including access to new releases of dbFront. The first year of Support & Maintenance is included when you purchase a new dbFront license.
* Canadian Pricing converted for your convenience.
For more information see our licensing details.
About dbFront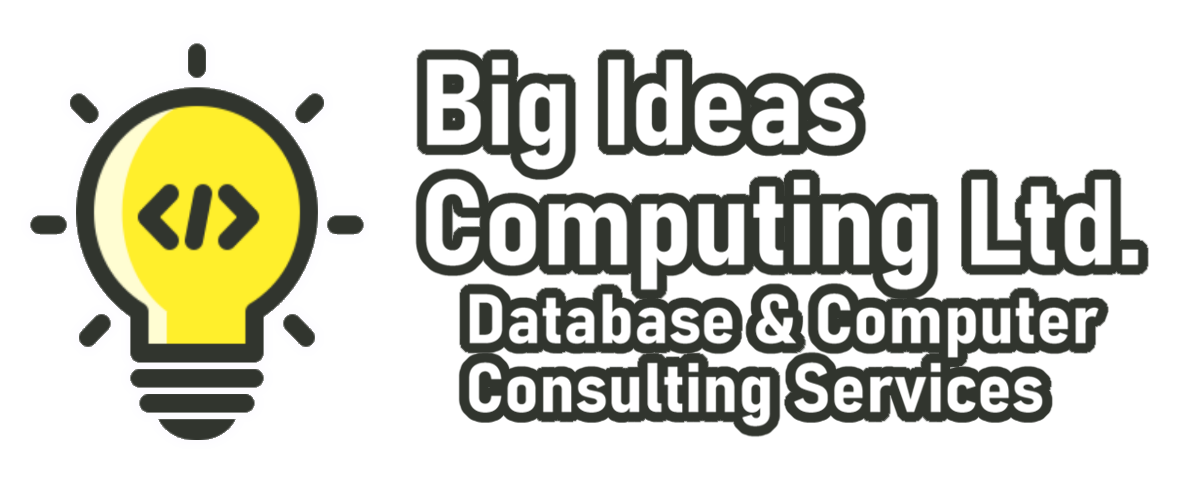 Big Ideas Computing Ltd. is a privately-held company founded in 2015 and incorporated as Big Ideas Computing Ltd. in 2020. We are committed to building innovative solutions at reasonable prices.
We are a small company with the big idea of creating a super popular web interface for internal business data. If you think we're dreaming then you're absolutely right! But having been in the database development industry for more than 25 years, we know how painful and annoying it can be to stand up a truly functional and solid interface for existing data. It should be easy, but it never is.
Try dbFront for Free
dbFront offers a 30-day free trial so that you can download, install and test it in your environment. After the trial you can continue to use the FREE version of dbFront for up to 3 users. Please review the video tutorials and plan to start a free trial today. We believe you will be impressed.
Content you want the user to see goes here.
close